MISSILE DEFENCE PROTEST!
Saturday, 27 November, 1 PM., Parliament Hill
UNITE AGAINST STAR WARS AND DARTH VADER (A.K.A. GEORGE W. BUSH)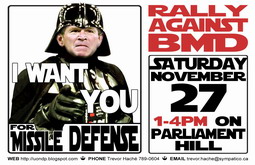 Rally on Parliament Hill in Ottawa to oppose Canada's involvement in the Ballistic Missile Defence (BMD) system. We ask people of all ages, religions and ethnicities to spell "NO BMD" with their bodies. Spread the word. Download poster. Tell your friends.
The event is being organized by the University of Ottawa's NDP and the Global Peace Coalition.
Help us send Paul Martin a strong message:
CANADIANS WANT NOTHING TO DO WITH BMD!
There will be lots of free hot chocolate for everyone (and we're working to secure some really great guest speakers)!
Contact trevor.hache@sympatico.ca 789-0604 from the University of Ottawa's NDP or Danika Brisson tusenslepipi@yahoo.ca from Global Peace Coalition.