[ FRONT ] | [LATER EVENTS]

PREVIOUS EVENTS ORGANIZED BY NOWAR-PAIX AND PEACE COALITION
as of April 17, 2003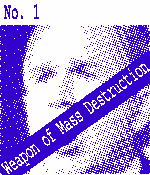 * GLOBAL PEACEFUL DAY OF ACTION AGAINST THE WAR ON IRAQ, IRAQ OCCUPATION, and U.S. DOMINATION: Parliament Hill on April 12, 2003 1:00pm. Say NO again and again. Organised by Committee for Peace in Iraq (CPI) and Rassemblement Outaouais Contre la Guerre [ROCG]. Tel (613) 266-6314 and e-mail futurehint@yahoo.com. DOWNLOAD posters and handbills, and read our (info booklet) . [ARABIC] |

Please bring banners, placards and flags.
Do not leave one at home. It is a peaceful rally. Let eveyone know of this event.
Help us distribute leaflets and posters widely. We have them available at selected locations. Or, just download them and print the amount you need.
Slide Show for the images of the event will follow.
COVERAGE-IMAGES


* PROTEST CANSEC 2003. SHUTDOWN Canada's Largest Weapons Fair, the one-stop shopping across the entire warfare spectrum. Thursday, April 10, 2003. The march starts at 8:00am at Rue Herridge and Main (St. Paul's University lawn) and will end at Ottawa Congress Centre, 55 Colonel By Drive, Ottawa. [DETAILS]. NO WEAPONS FOR IRAQIS BLOOD. NO MONEY FOR IRAQIS BLOOD. Organised by HOMES NOT BOMBS, (613) 237-0730X1, or contact the local Ottawa affinity group wrench_works@yahoo.ca. [IMAGES OF THE EVENT]



* DEPORTATION ORDER of Paul Cellucci, the Ambassador of the United States, for unacceptable interference in Canada's internal affairs. Wednesday, April 9, 2003 7:00 P.M., the residence of the Ambassador on Lisgar Drive at Buena Vista in Rockcliffe, (details and map),



* RALLY AGAINST THE WAR IN IRAQ AND PALESTINE. In Solidarity with the Iraqi & Palestinian people, to commemorate the Jenin Massacre, and say no to war on Iraq and Palestine. Sunday March 30, 2003, 2:30 PM, Parliament Hill. Organised by Solidarity for Iraqi & Palestinian Children (SIPC-Carleton) and Global Peace Coalition (GPC-Carleton). Co-sponsored by: Coalition of Canadian Arab Professionals & Community Associations (CAPCA)and Committee for peace in Iraq (CPI). Contact sipc@monisys.ca

* PROTEST THE BRITISH INVOLVEMENT IN THE ILLEGAL WAR ON IRAQ, British High Commission, 80 Elgin St. at Queen, Friday March 28, 2003, 8am-5pm. Organised by "Throw a Wrench in the Works of the War Machine". We will be non-violently blocking all entrances with our bodies. If you don't wish to participate, show up to observe, numbers matters. Why are we doing this?. Contact wrench_works@hotmail.com.

* CANADIANS IN THE MIDDLE EAST: ON INTERNATIONAL SOLIDARITY AND BUILDING SOCIAL MOVEMENTS. Wednesday, March 26, 7:00pm, Amphitheatre, Rm. 1124, St. Paul's University. Mary Foster, Mick Panesar, Jaggi Singh and Maysa Jalbout will discuss their experiences in Iraq and Palestine, Contact jo_wood@sympatico.ca, Ph. 565 5959. [POSTER]

* THROW A WRENCH IN THE WORKS-EVENT, March 21, 2003. "Throw a Wrench in the Works" members converged on the British High Commission to protest the Britain participation in the war on Iraq. Blocked the entrances and chained themselves to the parking lot fences. (details)

* SEARCHING FOR PEACE: THE UNITED STATES, IRAQ, THE WAR ON TERRORISM, AND THE WORLD. Tuesday, 25 March 7:00-10:00 P.M., National Arts Centre. Kai Frithjof Brand-Jacobsen will present an analysis of the current situation and concrete policy proposals for what governments and citizens can do, followed by questions and discussion. For more information, contact TRANSCEND.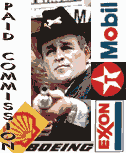 * --- RECENT EVENT ---INTERNATIONAL ACTION AGAINST THE WAR ON IRAQ, SATURDAY MARCH 22, 2003, 12:00pm (noon), Parliament Hill. Organised by Committee for Peace in Iraq. [SLIDESHOW] ( 8 images) | [POSTER]. Slide Show will be available by Monday.
* STAY TUNED FOR NEXT RALLY: (details will be announced)
* Please coem to our WEEKLY MARCH. Come to our events below
* BACKUP WEBSITE WILL BE: http://www.4data.ca/nowar-paix/ . We will update it ONLY if we encounter difficulties with this location. Please bookmark and record it.

* PROTEST THE MURDER OF PEACEMAKER RACHEL CORRIE BY ISRAELI ARMY, Friday March 21, 2003 11:30am - 12:30pm, in front of the Israeli embassy, 50 O'Connor Street at Albert Street. Rachel Corrie, of Olympia, Washington, was bulldozed twice by the Israeli Army on March 16, 2003. The bulldozer reversed and ran over Rachel's body a second time. Rachel was trying to stop the bulldozer from demolishing the home of a Palestinian. Our hearts go out to her family and friends. Rachel has been a member of The International Solidarity Movement [ISM] http://www.palsolidarity.org. Visit [ISM] website to Protest the Murder of Rachel Corrie, view more pictures, and read her writings. Designated liaison for the family - Phan Nguyen at 360-956-1210, e-mail rachelsmessage@the-corries.com. Organised by members of the Palestinian community. FULL REPORT AND SLIDE SHOW
* EMERGENCY PLANS: [

]
OTTAWA: meet Thursday March 20, 2003 at 5:30 pm at the Centennial Flame on Parliament Hill for a rally. We will be proceeding to the U.S. embassy.
GATINEAU (secteur Hull): meet Thursday March 20, 2003 at 5:30 pm, corner of St.Laurent and Maisonneuve, to march to the U.S. Embassy. (SAME TIME)
Take time to poster about today's rally now!
Please bring noisemakers, flashlights, banners, placards, and candles.
Bring flags of countries that opposed the war including Germany, France, and Russia.
We will organize a weekly rally after, (details will be announced).

BACKUP WEBSITE WILL BE http://www.4data.ca/nowar-paix/ . It will be available ONLY if we encounter difficulties with this location. It is not updated yet. However, please bookmark the alternative one and keep a record of it.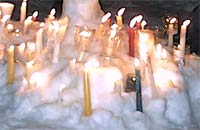 * WORLD WIDE CANDLELIGHT VIGIL, Sunday March 16, 2003 at 7 PM, Parliament Hill. Bring your candle ( protect it within a plastic cup, make hole in the bottom) and matches. Let us be together - people of all faiths and cultures, all walks of life and all ages- to focus on PEACE!! It will mostly be a Silent Vigil and will last no longer than an hour. Pic1 | Pic2 | Pic4

* THROW A WRENCH IN THE WORKS. Saturday, March 15, 3:00 to 7:00 pm, following the demonstration. Analysis and Strategy Session on Direct Action to Stop the War Machine, PORTER HALL (not as announced earlier), University Centre, Carleton University. Contact: mfoster@web.ca



* ANTI-WAR DEMONSTRATION, Saturday March 15, 2003. Two gathering points: at 12:30, corner of Maisonneuve and St-Laurent, Hull and at 1:00 at the National Gallery of Canada in Ottawa. Organised by Rassemblement Outaouais Contre la Guerre-Hull. Supported by Committee for Peace in Iraq and NOWAR-PAIX.

7,500 ATTENDED. SLIDE SHOW
* SOLIDARITY WEEK WITH IRAQI AND PALESTINIAN CHILDREN, March 10, 2003 evening – March 14, 2003 noon. Baker Lounge, Carleton University, Unicenter 4th floor. 24-hour display: Documentary Presentations, Computer Slide Shows, Photo Exhibit, Info Tables, Food Sale, and Guest Speakers (every day around noon). contact sipc@monisys.ca

* IMPACT OF SANCTIONS AND WAR ON IRAQI WOMEN AND IRAQI CHILDREN (panel) : Friday March 14, 2003, 5:30PM -8:30PM, 120 Metcalfe + Laurier, Main Ottawa Public Library-Auditorium, 2$ donation. Organized by The United Nations Development Fund for Women and Global Peace Coalition . ( Gulf War veterans, members of Iraqi community, women's shelters, peace activists, local entertainment). Contact: Muna S. Deria Tel:956-37 msderia@connect.carleton.ca.



* NOBEL PRIZE LAUREATE, ARGENTINE, ADOLFO PEREZ ESQUIVEL speaks on the connection between economic globalization and militarization, both in the immediate context of an impending war on Iraq and in relation to the Latin American struggle for justice. Thursday March 13, 2003, at 7:00pm, First United Church, 397 Kent St, Ottawa, Canada. Organized by Canadian Ecumenical Justice Initiatives, a national ecumenical partnership of churches dedicated to justice. A MUST EVENT.

* IN THE SHADOW OF WAR: Imposing a Clash of Civilizations?" Wednesday March 12th, Porter Hall (Room 231), Unicenter 2nd floor @ 7:00 pm, Informative presentations by Mary Foster, Dr. Canon Naim Ateek and by Dr. Meir Amor, moderated by Professor John Sigler. contact sipc@monisys.ca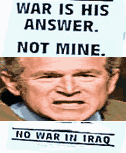 * SURROUNDING THE U.S. EMBASSY ANTI-WAR EVENT. [ Slide Show ]. Coincided with International Women's Day in solidarity with the women in Iraq. In Ottawa, Saturday March 8, 2003, 11:30 am, Minto Park (Elgin and Gilmour). In Hull, same time at 11:30 am, corner of Maisonneuve and St-Laurent. Organised by Committee for Peace in Iraq (CPI). Surrounded the U.S. embassy in symbolism of isolation. International Women's Day Fair –Visions of Peace- followed at City Hall 1-5 pm. Contact ottawairaqaction@hotmail.com or phone number 742-0999. ( callout) ( Nelson Mandela speech ) ( poster ) ( handbill ). Yes we need your help, call us to volunteer at 266-6314, or futurehint@yahoo.com || Slide Show



* REFUSENIK MAI OMER, 18, AGAINST OCCUPATION, Monday, 3 March, 2003 7:00 P.M., 302 Azrieli Theatre, Carleton University, Mai Omer has refused to serve in the Israeli Army and is advocating Israel's withdrawal of the Palestinian Occupied Territories. Sponsored by NOWAR-PAIX. Contact info bahija.1@rogers.com, (details)

* FUNDRAISING FOR OTTAWA'S IRAQ PEACE TEAM, Sunday, March 2, 2003, 8 p.m, Great Canadian Theatre Company (GCTC), 910 Gladstone Ave, just west of Preston Ave. Poets for Peace. Readings of Poetry and Peace. Folk singers Terry Tufts and Lynne White. Entrance tickets will be $10.00.

* DIRECT ACTION EVENT AGAINST SECURITY CERTIFICATE DEMANDING JUSTICE FOR MOHAMMAD HARAKAT, Sunday, March 2, 2003 2PM, Human Right Monument ( Elgin and Lisgar ). Mr. Harakat was arrested under U.S-made security certificate without charges and without providing any evidence to his legal counsel. Contact Direct Action Case Work Ottawa daco@ziplip.com tel (613) 786-1015. (poster) (0.5MB). ( Right Sophie Harakat plea for the release of her husband..credit to Ottawa Sun. )

* HOW HAVE THE LATEST THREAT OF WAR AND A DECADE OF SANCTIONS IMPACTED THE LIFE OF IRAQIS? Thursday February 27, at 7 p.m. Saint John's Church, 154 Somerset West (at Elgin street). Mary Foster and Mick Panesar, memebrs of the peace team to Iraq, report on their trip to Iraq, Lisa Ndejuru, will continue to send reports from Iraq. ( Poster )

* ARTISTS AGAINST THE WAR INVITES YOU to join local Ottawa musicians and artists at 7:30 p.m. on Saturday February 22, 2003 at Alumni Auditorium on the University of Ottawa campus for an evening of music, poetry readings, artistic displays and political dissent as part of the growing movement to prevent an attack on Iraq. No admission charge, but a $5 or more donation is appreciated. This is a benefit concert to support the Iraq Peace Team. [ Press Release ]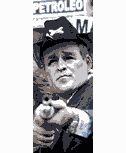 Occupation of the entrance of the department of war (National Defence), Friday February 14, 2003 in a bone chilling day of temperature dived to -30C + wind chill = -38C. Why silent? Why Valentine's day? What is the unspeakable? Report | Slide Show.

MORE THAN 14, 000 BRAVED BONE-CHILLING COLD TO PARTICIPATE IN INTERNATIONAL DAY OF PROTEST AGAINST THE WAR ON IRAQ, Saturday February 15, 2003. COVERAGE in slide show.



*

ANTI-WAR ON IRAQ FULL PAGE AD: 10000 signatures for a full page ad in the Ottawa Citizen by February 10, 2003! $3 per person, but anyone can sign even if they can't pay. Send singatures and money to "NOWAR-PAIX" c/o UNIT 12, 604 MacLaren St., Ottawa ON K1R 5K9. Checks should be made out to "NOWAR-PAIX" marked "for Citizen ad." [THE PUBLISHED AD]

* POTLUCK for PEACE, Thursday, February 6, 2003, 6:30 - 9:00 pm, Church of the Ascension, 253 Echo Dr., Beside Immaculata High School, (between Main St. & Colonel By Dr. - near Pretoria Bridge), Meet David Swann, hear about his recent mission to Iraq, see his slides!, Hear about Ottawa's ongoing efforts to oppose the rush to war, eat some fabulous food!, ALL ARE WELCOME!!!! If possible, a favorite food dish and/or financial donation.

* DAVID SWANN MD, well-known peace activist, speaks on The Impact of Sanctions on Iraq, Thursday, February 6th 3-5 pm, 2203 Dunton Tower, (Interdisciplinary Studies Lounge), Carleton University, (Biography) (Poster)

* WHY WAR? A CBC radio & television debate, Tuesday, February 4, 2003 at 7:30 p.m. Ottawa City Hall Council Chambers, 110 Laurier Ave., Admission is free, but space is limited. (CBC details). Please come if you can and pack the space with peace-loving people.

* LEGAL RIGHTS AWARNESS WORKSHOP. Saturday, 25 January 2003 6:00 pm. Bell Theatre, Minto Building, Carleton University. By Council on American-Islamic Relations Canada [CAIR-CAN]. Presenter: Riad Saloojee, LLB, BA, with message from Alexa McDonough. A must for Muslim and Arabs living in Canada. Do not miss this rare opportunity! Babysitting, refreshments, door prizes.

* CONTACT MEMBERS OF PARLIAMENT CROSS-CANADA EVENT: Monday, January 20, 2003 to Friday, January 24, 2003 cross-Canada phone/fax/visit your MP week to say no to the war on Iraq. Most Canadians are against the war involvement in the war on Iraq; so in whose name is the decision to participate being made?. 37th Parliament Members of the House of Commons and (e-mail addresses of all the house of commons (text file)) and Ottawa area MPS full contact iformation



* INTERNATIONAL ACTION AGAINST WAR ON IRAQ: event took place on Parliament Hill, Ottawa, Canada on Saturday, January 18, 2003 2:00 pm. Seven thousand people braved freezing temperatures to say NO WAR on Iraq.


(full coverage)


* &nbsp P r e p a r a t i o n S e s s i o n for January 18, 2003 (Cross Canada Action Against War in Iraq) on Saturday, 11 January, 1:00pm to 4:00 pm , room 406, Southam Hall, Carleton University., Carleton University. (NOT 2:00 pm as previously announced).

* Peace Tree Event December 23, 2002 7:30 am, outside the home of Prime Minister Jean Chretien At 24 Sussex Drive. Christmas tree decoration to remind the Prime Minister, and passers-by, that Christmas is traditionally a season for peace, not preparing for war.Original Callout | Pic1 | Pic2 | Pic3 | Pic4 | Pic5 | Pic6